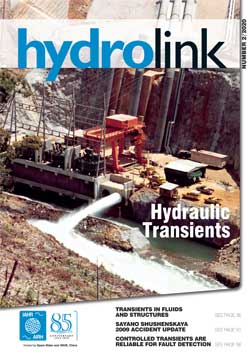 Hydrolink is the quarterly IAHR members magazine. It publishes articles on projects, research, and new methods and tools of interest to the hydro-environment engineering community. Themed issues are suggested by an advisory board composed of ten IAHR members and articles are reviewed by the Hydrolink editor and the guest editor of each issue.
Hydrolink issue 2, 2020. Special issue on Hydraulic Transients
This issue of Hydrolink includes eight articles on different aspects of research and practice in hydraulic transients in urban and industrial systems. Hydraulic transients result from sudden changes in flow conditions in pipeline systems due to the planned or accidental closure/opening of valves or the starting/stopping of pumps or hydraulic turbines. These sudden changes can cause pressure waves through the system and pressure spikes generated by column separation and rejoining.
IAHR members can access the latest issue online.
Guest editor: Hamid Bashiri. Bechtel, USA
Editorial by Hamid Bashiri and Angelos N. Findikakis. Free article

Transients in fluids and structures by Arris S. Tijsseling. Free article

Hydraulic transients and negative pressures – consequences and risks by Bryan Karney

Innovative strategies for controlling hydraulic transients in pumping systems and hydroelectric powerplants by Hanif Chaudhry

Hydraulic transients in hydropower systems: from theory to practice by David Ferras, Giovanni De Cesare, Didia I.C. Covas and Anton J. Schleiss. Free article

Sayano Shushenskaya 2009 accident update by Frank Hamill. Free article

Surge mitigation for pumped storage hydropower by Elena Pummer and Wolfgang Richter

Controlled transients are reliable for fault detection by Silvia Meniconi, Caterina Capponi, Moez Louati and Bruno Brunone. Free article

Challenges of modeling stormwater transients in developing countries by Daniel Allasia, Robson Pachaly, Rutineia Tassi, Jose Goes Vasconcelos, Ben R. Hodges and Robert E. Dickinson

Thematic framework: 39th IAHR World Congress. Free article