To catalyse thinking, inspire debate and better apply scientific knowledge to global water problems, the IAHR White Papers seek to reveal complex and emerging issues in Hydro-Environment and Engineering Research. They are written for researchers, engineers, policy-makers and all those who are interested in the latest for a better water future.
Editors

Prof. Silke Wieprecht, Universität Stuttgart, Department of Civil and Environmental Engineering, Institute of Hydraulic Engineering, Germany.


Dr Angelos N. Findikakis, Bechtel Fellow, Bechtel National Inc. San Francisco, California Consulting Professor, Stanford University, United States of America.
By Roberto Ranzi

The community of professionals, stakeholders and end-users in the water engineering sector is concerned about the observed and projected impact of global warming and related changes on the water cycle. Little doubt exists about the fact that the observed global temperature increase is already impacting some components of the hydrosphere, the most evident one being the cryosphere with the retreat of ice masses.
We must rethink our approach to designing hydraulic structures and managing water resources in the most climate-sensitive environments, such as coasts and islands, mountain areas, rapidly developing mega-cities, and high-latitude tundra with permafrost. At the same time, we need to strengthen our scientific efforts in monitoring and understanding the impact of global warming on the water systems.
In this white paper, Roberto Ranzi, Professor of Hydraulic structures and River basin monitoring and restoration at the University of Brescia, Italy, and chair of the IAHR technical committee on Climate Change Adaptation, addresses some of the key approaches and challenges associated with climate change adaptation in water engineering.
ISSN (Print): 2664-5329 ISSN (Online): 2664-5637
By Dragan Savic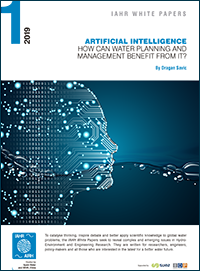 Lately, it appears that our society has become fixated on the topic of Artificial Intelligence (AI), with opinions often ranging from one extreme to the other – either how AI could solve a range of current and future world problems, or how it could potentially be very dangerous to humankind. But do we really understand what AI is, how it relates to human intelligence and how/where it most likely could be deployed by the hydro-environment community for the betterment of the environment and advancement of society? This white paper addresses some of these questions and provides a brief introduction to the topic of AI and Machine Learning, together with some example applications in water management practice.
Professor Dragan Savic, Fellow of the Royal Academy of Engineering, is the CEO of KWR Water Research Institute, the Dutch drinking water companies' collective research organization. He is also the United Kingdom's first professor of Hydroinformatics, having held this position at the University of Exeter since 2001. His research interests cover the interdisciplinary field of Hydroinformatics, which transcends traditional boundaries of water/environmental science and engineering, informatics/computer science (including Artificial Intelligence, data mining and optimization techniques) and environmental engineering. Professor Savic has served as both the chair of the of the IAHR/IWA joint technical committee on Hydroinformatics and as the editor in chief of the Journal of Hydroinformatics.
ISSN (Print): 2664-5329 ISSN (Online): 2664-5637