Editorial Board Latest Issue Download
HydroLink is the primary magazine of the IAHR community and brings you the latest news in the world of hydro-environment engineering and research! Hydrolink also provides a platform for reporting on IAHR Conferences, news from our members and offers a forum for exchanging information and spreading the word on topics and news relevant to the community.

HydroLink is a printed publication in full colour (four issues per year), and is distributed to all IAHR members as a membership benefit .
Hydrolink publishes articles on projects, research, and new methods and tools interest to the hydro-environment engineering community! The articles published in most issues are around a theme. The themes are developed by the Editor with the support of the Hydrolink Advisory Board and the Executive Committee. For a list of future and past themes please click here. If you would like to propose a theme for a future issue, or contribute an article to an issue on one of the planned themes, please contact either the Editorial Assistant, Estibaliz Serrano, or the Editor, Angelos Findikakis.
ISSN: 1388-3445

Publication Frequency: 4 issues per year

Editorial board ↑
Editor
Angelos N. Findikakis, Bechtel Fellow, Bechtel Corp. Adjunct Professor, Stanford University, USA
Technical editors
Joe Shuttleworth,Water Engineering, Arup, United Kingdom

Sean Mulligan, Research Associate, College of Engineering and Informatics, National University of Ireland Galway (NUIG), Ireland

Editorial assistant
Estibaliz Serrano, IAHR Secretariat Madrid Office, Spain, publications@iahr.org
Advisory board
Luis Balairón, Director of Hydraulics Laboratory, CEDEX - Ministry Public Works, Spain

Jean Paul Chabard, Professor at Ecole des Ponts Paris Tech, Project Manager, EDF Research & Development, France

Yoshiaki Kuriyama, Director for Special Research, Director General of Asia-Pacific Center for Coastal Disaster Research, The Port and Airport Research Institute, PARI, Japan

Jaap C.J. Kwadijk, Scientific director,Deltares,The Netherlands

Henrik Madsen, Head of Research and Development, DHI, Denmark

Rafaela Matos, Head of Hydraulics and Environment Department, Laboratório Nacional de Engenharia Civil (LNEC), Portugal

Yasuo Nihei, Tokyo University of Science, Japan


Jing Peng, Vice President, China Institute of Water Resources and Hydropower Research, China

Patrick Sauvaget, Directeur Ressources En Eau Et Environnement, Artelia Eau & Environnement, France

James Sutherland, Principal Scientist, HR Wallingford, UK

Karla González Novion, Executive Director, Instituto Nacional de Hidráulica, Chile
Ex-officio
Peter Goodwin, Past President of IAHR, President of University of Maryland Center for Environmental Science, United States of America

Latest issue ↑
Issue 2, 2020. Special issue on Hydraulic Transients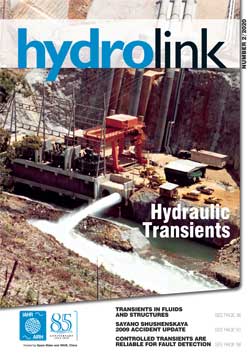 This issue of Hydrolink includes eight articles on different aspects of research and practice in hydraulic transients in urban and industrial systems. Hydraulic transients result from sudden changes in flow conditions in pipeline systems due to the planned or accidental closure/opening of valves or the starting/stopping of pumps or hydraulic turbines. These sudden changes can cause pressure waves through the system and pressure spikes generated by column separation and rejoining.
Guest editor: Hamid Bashiri. Bechtel, USA
IAHR members can access the latest issue online.
Editorial by Hamid Bashiri and Angelos N. Findikakis. Free access article

Transients in fluids and structures by Arris S. Tijsseling. Free access article

Hydraulic transients and negative pressures – consequences and risks by Bryan Karney

Innovative strategies for controlling hydraulic transients in pumping systems and hydroelectric powerplants by Hanif Chaudhry

Hydraulic transients in hydropower systems: from theory to practice by David Ferras, Giovanni De Cesare, Didia I.C. Covas and Anton J. Schleiss. Free access article

Sayano Shushenskaya 2009 accident update by Frank Hamill. Free access article

Surge mitigation for pumped storage hydropower by Elena Pummer and Wolfgang Richter

Controlled transients are reliable for fault detection by Silvia Meniconi, Caterina Capponi, Moez Louati and Bruno Brunone. Free access article

Challenges of modeling stormwater transients in developing countries by Daniel Allasia, Robson Pachaly, Rutineia Tassi, Jose Goes Vasconcelos, Ben R. Hodges and Robert E. Dickinson

Thematic framework: 39th IAHR World Congress. Free access article
View and download ↑

Full issues of Hydrolink are benefits for IAHR members only. If you are already logged in, please click the button below to view and download HydroLink. If not, please log in first and then come back.
View and download all HydroLinks Join IAHR to get access Now!