Editorial Board Latest issue Upcoming issues Download
HydroLink is the primary magazine of the IAHR community and brings you the latest news in the world of hydro-environment engineering and research! Hydrolink also provides a platform for reporting on IAHR Conferences, news from our members and offers a forum for exchanging information and spreading the word on topics and news relevant to the community.

HydroLink is a printed publication in full colour (four issues per year), and is distributed to all IAHR members as a membership benefit .
Hydrolink publishes articles on projects, research, and new methods and tools interest to the hydro-environment engineering community! The articles published in most issues are around a theme. The themes are developed by the Editor with the support of the Hydrolink Advisory Board and the Executive Committee. For a list of future and past themes please click here. If you would like to propose a theme for a future issue, or contribute an article to an issue on one of the planned themes, please contact either the Editorial Assistant, Estibaliz Serrano, or the Editor, Angelos Findikakis.
ISSN: 1388-3445

Publication Frequency: 4 issues per year

Editorial board ↑
Editor
Angelos N. Findikakis, Bechtel Fellow, Bechtel Corp. Adjunct Professor, Stanford University, USA
Technical editors
Joe Shuttleworth,Water Engineering, Arup, United Kingdom

Sean Mulligan, Research Associate, College of Engineering and Informatics, National University of Ireland Galway (NUIG), Ireland

Editorial assistant
Estibaliz Serrano, IAHR Secretariat Madrid Office, Spain, publications@iahr.org
Advisory board
Luis Balairón, Director of Hydraulics Laboratory, CEDEX - Ministry Public Works, Spain

Jean Paul Chabard, Professor at Ecole des Ponts Paris Tech, Project Manager, EDF Research & Development, France

Yoshiaki Kuriyama, Director for Special Research, Director General of Asia-Pacific Center for Coastal Disaster Research, The Port and Airport Research Institute, PARI, Japan

Jaap C.J. Kwadijk, Scientific director,Deltares,The Netherlands

Henrik Madsen, Head of Research and Development, DHI, Denmark

Rafaela Matos, Head of Hydraulics and Environment Department, Laboratório Nacional de Engenharia Civil (LNEC), Portugal

Yasuo Nihei, Tokyo University of Science, Japan


Jing Peng, Vice President, China Institute of Water Resources and Hydropower Research, China

Patrick Sauvaget, Directeur Ressources En Eau Et Environnement, Artelia Eau & Environnement, France

James Sutherland, Principal Scientist, HR Wallingford, UK

Karla González Novion, Executive Director, Instituto Nacional de Hidráulica, Chile
Ex-officio
Peter Goodwin, Past President of IAHR, President of University of Maryland Center for Environmental Science, United States of America

Latest issue ↑
Hydrolink 4, 2020 | Special Issue on Artificial Intelligence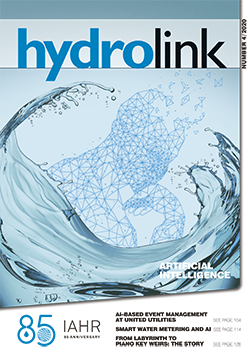 In the context of the celebration of the 85th Anniversary of IAHR and the IAHR 85th Anniversary Summit (14 to 17 December 2020), we are happy to announce that this issue of Hydrolink is FREE ACCESS. Please share it!
The articles in this issue of Hydrolink clearly demonstrate the potential of the digital technology applications for water management and hydro-environment engineering which have already made an impact in practice. The breadth of applications, from water efficiency improvements via smart domestic water metering, through water and wastewater network anomaly detection, to algal bloom management, also demonstrates the level of maturity that has been attained in the development and application of hydroinformatics, a science field pioneered and championed by IAHR members. Beginning in the late 1980s and early 1990s, IAHR (together with IWA) was among the first professional organizations to recognize the potential and importance of this new field, by establishing an IAHR/IWA joint committee on Hydroinformatics, starting the Journal of Hydroinformatics (published by IWA), and supporting the organisation of a bi-annual conference on Hydroinformatics. Judging by the quality of the papers presented in this issue, the water sector will soon catch up with the sectors and industries that have gone further on the digital transformation curve.
Contents
Editorial by Dragan Savić and Angelos Findikakis.

Machine Learning applications in sewer systems by Josh Myrans, Feifei Zhen and Zoran Kapelan.

39th IAHR World Congress - new dates announcement.


AI–based event management at United Utilities by Michele Romano, Shaun Boatwright, Steve Mounce, Eirini Nikoloudi and Zoran Kapelan.

Real time forecasting and automatic species classification of Harmful Algal Blooms (HAB) for fisheries management by Joseph H. W Lee, J. H Guo, Tree S. N Chan, David K. W Choi, W. P Wang and Kenneth M. Y Leung.

Smart water metering and AI for utility operations and customer engagement: disruption or incremental innovation? By Andrea Cominola, Ian Monks and Rodney Stewart.

The history of the Mar del Plata Outfall System: a tale worth telling by Marcelo Scagliola, Ana Paula Comino, Phil Roberts and Daniel Botelho.

From Labyrinth to Piano key weirs: the story by Sébastien Erpicum, François Lempérière, Ahmed Ouamane, Michel Ho Ta Khanh, Frédéric Laugier, Blake Tullis and Brian Crookston.
Upcoming issues
Issue 1: Deep lakes. Guest editor: Jorg Imberger
Issue 2: Artificial intelligence. Guest editor: Dragan Savic (tbc)
Issue 3: Offshore structures. Guest editor: Guilherme Moura Paredes
Issue 4: Africa. Guest editors: David Ferras, Moez Louati and Feleke Arega
View and download ↑

Full issues of Hydrolink are benefits for IAHR members only. If you are already logged in, please click the button below to view and download HydroLink. If not, please log in first and then come back.
View and download all HydroLinks Join IAHR to get access Now!