Editorial Board Latest Issue Download
HydroLink is the primary magazine of the IAHR community and brings you the latest news in the world of hydro-environment engineering and research! Hydrolink also provides a platform for reporting on IAHR Conferences, news from our members and offers a forum for exchanging information and spreading the word on topics and news relevant to the community.

HydroLink is a printed publication in full colour (four issues per year), and is distributed to all IAHR members as a membership benefit .
Hydrolink publishes articles on projects, research, and new methods and tools interest to the hydro-environment engineering community! The articles published in most issues are around a theme. The themes are developed by the Editor with the support of the Hydrolink Advisory Board and the Executive Committee. For a list of future and past themes please click here. If you would like to propose a theme for a future issue, or contribute an article to an issue on one of the planned themes, please contact either the Editorial Assistant, Estibaliz Serrano, or the Editor, Angelos Findikakis.
ISSN: 1388-3445

Publication Frequency: 4 issues per year

Editorial Board ↑
Editor
Dr. Angelos N. Findikakis, Bechtel Fellow, Bechtel Corp. Adjunct Professor, Stanford University, USA
Technical Editors
Joe Shuttleworth, IAHR Cardiff Young Professionals Network PhD Student Cardiff University, UNITED KINGDOM

Dr. Sean Mulligan, Research Associate, College of Engineering and Informatics, National University of Ireland Galway (NUIG), Ireland

Editorial Assistant
Ms. Estibaliz Serrano, IAHR Secretariat Madrid Office, Spain, publications@iahr.org
Advisory Board
Luis Balairón, Director of Hydraulics Laboratory, CEDEX - Ministry Public Works, Spain

Jean Paul Chabard, Professor at Ecole des Ponts Paris Tech, Project Manager, EDF Research & Development, France

Yoshiaki Kuriyama, Director for Special Research, Director General of Asia-Pacific Center for Coastal Disaster Research, The Port and Airport Research Institute, PARI, Japan

Jaap C.J. Kwadijk, Scientific director,Deltares,The Netherlands

Ole Mark, Head of Research and Development, DHI, Denmark

Rafaela Matos, Head of Hydraulics and Environment Department, Laboratório Nacional de Engenharia Civil (LNEC), Portugal

Jing Peng, Vice President, China Institute of Water Resources and Hydropower Research, China

Patrick Sauvaget, Directeur Ressources En Eau Et Environnement, Artelia Eau & Environnement, France

James Sutherland, Principal Scientist, HR Wallingford, UK

Karla González Novion, Executive Director, Instituto Nacional de Hidráulica, Chile
Ex-officio
Peter Goodwin, Past President of IAHR, President of University of Maryland Center for Environmental Science, United States of America

Latest Issue ↑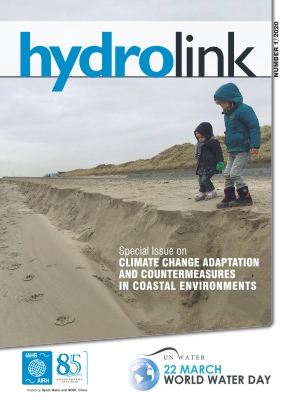 Special Issue on Climate Change Adaptation and Countermeasures in Coastal Environments
Guest Editor: Corrado Altomare, Polytechnical University of Catalonia, Spain - Ghent University, Belgium
This issue contains:

Editorial

CREST – Climate REsilient coaST Research highlights with applications at the Belgian coast by Tina Mertens & Jaak Monbaliu

Coastbusters: Nature inspired solutions for ecosystem based coastal management by Tomas Sterckx, Emile Lemey, Marc Huygens, Jan Fordeyn, Bert Groenendaal, Alexia Semeraro, Thibaud Mascart & Koen van Doorslaer

A holistic approach to coastal protection for the Prins Hendrik polder by Jan Fordeyn

Emile Lemey & Luitze Perk

Research perspectives on ecologically-wise means of coastal protection – current deficits and future demands by Nils Goseberg, Maike Paul, David Schürenkamp & Torsten Schlurmann

DURCWAVE "Amending the design criteria of urban defences in LECZS through composite-modelling of wave overtopping under climate change scenarios" by Xavier Gironella & Corrado Altomare

Climate change and coastal disasters (a review) by Nobuhito Mori & Tomoya Shimura

Development and features of the new coastal and ocean basin in Ostend, as supporting research infrastructure to tackle climate change issues related to urbanized coastal environments by Peter Troch, Vicky Stratigaki, Jaak Monbaliu & Frank Mostaert

Obituary Michael B. Abbott

Obituary Prof. Li Guifen

2020-2023 IAHR Strategic Plan
View & Download Current Issue (Open-Access) Read it in ISSUU (Open-Access)
View and Download ↑

Full issues of HydroLink are benefits for IAHR members only. If you are already logged in, please click the button below to view and download HydroLink. If not, please log in first and then come back.
View and Download All HydroLinks Join IAHR to Gain Access Now!