Editorial Board Latest Issue Download
HydroLink is the primary magazine of the IAHR community and brings you the latest news in the world of hydro-environment engineering and research! Hydrolink also provides a platform for reporting on IAHR Conferences, news from our members and offers a forum for exchanging information and spreading the word on topics and news relevant to the community.

HydroLink is a printed publication in full colour (four issues per year), and is distributed to all IAHR members as a membership benefit .
Hydrolink publishes articles on projects, research, and new methods and tools interest to the hydro-environment engineering community! The articles published in most issues are around a theme. The themes are developed by the Editor with the support of the Hydrolink Advisory Board and the Executive Committee. For a list of future and past themes please click here. If you would like to propose a theme for a future issue, or contribute an article to an issue on one of the planned themes, please contact either the Editorial Assistant, Estibaliz Serrano, or the Editor, Angelos Findikakis.
ISSN: 1388-3445

Publication Frequency: 4 issues per year

Editorial board ↑
Editor
Angelos N. Findikakis, Bechtel Fellow, Bechtel Corp. Adjunct Professor, Stanford University, USA
Technical editors
Joe Shuttleworth,Water Engineering, Arup, United Kingdom

Sean Mulligan, Research Associate, College of Engineering and Informatics, National University of Ireland Galway (NUIG), Ireland

Editorial assistant
Estibaliz Serrano, IAHR Secretariat Madrid Office, Spain, publications@iahr.org
Advisory board
Luis Balairón, Director of Hydraulics Laboratory, CEDEX - Ministry Public Works, Spain

Jean Paul Chabard, Professor at Ecole des Ponts Paris Tech, Project Manager, EDF Research & Development, France

Yoshiaki Kuriyama, Director for Special Research, Director General of Asia-Pacific Center for Coastal Disaster Research, The Port and Airport Research Institute, PARI, Japan

Jaap C.J. Kwadijk, Scientific director,Deltares,The Netherlands

Henrik Madsen, Head of Research and Development, DHI, Denmark

Rafaela Matos, Head of Hydraulics and Environment Department, Laboratório Nacional de Engenharia Civil (LNEC), Portugal

Yasuo Nihei, Tokyo University of Science, Japan


Jing Peng, Vice President, China Institute of Water Resources and Hydropower Research, China

Patrick Sauvaget, Directeur Ressources En Eau Et Environnement, Artelia Eau & Environnement, France

James Sutherland, Principal Scientist, HR Wallingford, UK

Karla González Novion, Executive Director, Instituto Nacional de Hidráulica, Chile
Ex-officio
Peter Goodwin, Past President of IAHR, President of University of Maryland Center for Environmental Science, United States of America

Latest issue ↑
Issue 3, 2020. Special 85th IAHR anniversary issue
To celebrate IAHR's 85th anniversary, we are happy to announce that this issue is FREE ACCESS. Share it!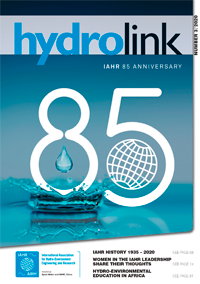 Hydrolink is celebrating the 85th anniversary of the association by looking into its past, present and future. This special issue includes some reflections on the history of IAHR and its recent achievements under the leadership of the current and three past presidents. Six leading women members also share their thoughts on progress towards greater diversity and gender equity within the association and in water issues. Young professionals from across the globe discuss the challenges and aspirations of a new generation of engineers and scientists working on hydro-environment science and engineering. Regional concerns, in particular the case of Africa, which is one of the current strategic objectives of IAHR and requires greater engagement, are also addressed. The issue includes technical articles from IAHR Institute members presenting developments in solutions for fish-friendly hydropower, optimizing the size of surge vessels, and hydraulic studies to improve the safety of historic dams.
>> Hydrolink. Special 85th IAHR anniversary issue [PDF format]
Contents
Message from the president by Joseph Hun-wei Lee.

IAHR History 1935 – 2020: 85 years by Helmut Kobus.


Recent IAHR achievements under the presidencies of Roger Falconer (2011-15) and Peter Goodwin (2015-19).

Some thoughts by IAHR Secretary Generals by Ramón Gutiérrez Serret and Jing Peng.

Women in the IAHR leadership team share their thoughts by Silke Wieprecht, Jing Peng, Dalila Loudyi, Amparo López Jiménez, Ioana Popescu and Verónica Minaya.

Young Professionals Networks' perspectives by Silke Wieprecht, the IAHR Poland YPN leadership team, Maria Gabriela Castrellón, Jayashree Chadalawada and Charlene Gaba.

Hydro-environmental education in Africa by Moez Louati, David Ferras and Feleke Arega.

Encouraging closer connectivity between IAHR and Africa by Jörg Imberger, Robert Humphries and Musonda Joseph Mwansa.

Innovative solutions and new tools for fish-friendly hydropower by Atle Harby, Lea Berg and Peter Rutschmann.

Minimizing the required surge vessel volume by an improved thermodynamic model by Sam Van Der Zwan and Ivo Pothof.

CEDEX studies to improve the safety of the Ebro Dam by Luis Balairón and María Isabel Berga.

39th IAHR World Congress. From Snow to Sea (S2S)
Article ahead of print
View and download ↑

Full issues of Hydrolink are benefits for IAHR members only. If you are already logged in, please click the button below to view and download HydroLink. If not, please log in first and then come back.
View and download all HydroLinks Join IAHR to get access Now!