NewsFlash World (NFW) is an electronic monthly newsletter from the International Association for Hydro-Environment Engineering and Research (IAHR). Distributed free of charge to those interested in hydro-environment engineering, sustainability and research, NewsFlash World provides information on IAHR activities and communities around the world. Two regional versions, Europe and Iberoamerica (in Spanish), are also produced.
Editor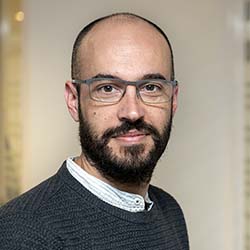 David Ferras, IHE-Delft Institute for Water Education, the Netherlands. With a BSc in Civil Engineering, a MSc in Hydroinformatics and a PhD in the field of hydraulic transients, Dr Ferras currently holds a Lecturer-Researcher position in Water Transport and Distribution in the Department of Water Supply, Sanitation and Environmental Engineering of IHE-Delft. His main research interests lie in the fields of pressurized transient flows, fluid-structure interaction, intermittent water supply and the water-energy nexus.
2020
October | Focus on IAHR's 85th anniversary September | Focus on water security August | Focus on young professionals
July | Focus on gender equity June | Focus on Environment Day May | Focus on the African region.
David Ferras regularly interviews IAHR members on topics which are important to the Association. You will find all interviews made to date on the IAHR Talks section of this website.