NewsFlash Europe (NFE) is an electronic monthly newsletter from the International Association for Hydro-Environment Engineering and Research (IAHR). Published at mid-month and distributed free of charge to those interested in hydro-environment engineering, sustainability and research, NewsFlash Europe provides information on IAHR activities and communities in Europe.
Editor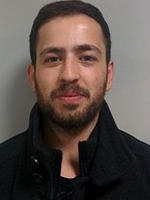 Tiago João Fazeres Marques Ferradosa, Faculty of Engineering of the University of Porto (FEUP), Portugal.
Dr. Fazeres Ferradosa is a researcher at FEUP and CIIMAR. He is currently responsible for the R&D unit Offshore Structures & Foundations at the Research Group of Hydraulic Structures and Marine Energy. He has a MSc. thesis developed at University College London (UK) and a Ph.D. thesis developed in FEUP. He develops is work on offshore foundations, risk and reliability analysis, scour phenomena, sea climate modelling and extreme events theory applied to ocean engineering and erosion phenomena. His interests are extended to statistical joint modelling of sea climate, namely, the modelling of wave heights and periods applied to infrastructures' and coastal safety design, under Climate Change effects. From 2015-2019, he was the President of the IAHR Portugal Young Professionals Network (YPN-PT-IAHR).