Hydrolink is the quarterly IAHR members magazine. It publishes articles on projects, research, and new methods and tools of interest to the hydro-environment engineering community. Themed issues are suggested by an advisory board composed of ten IAHR members and articles are reviewed by the Hydrolink editor and the guest editor of each issue.
Overview
Guest editor: Dragan Savić.
Professor Savić is Chief Executive Officer at KWR Water Research Institute based in the Netherlands. He is also Professor of Hydroinformatics at the University of Exeter in the UK and Distinguished International Professor at the National University of Malaysia. He is an international expert in smart water systems with over 35 years of experience working in engineering, academia and research consultancy. His work has resulted in patentable innovation and spinout companies. In addition to innovation and leadership skills, he is known for believing in bridging science to practice in the wider water sector and utilities in general.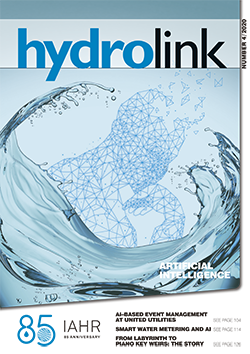 The articles in this issue of Hydrolink clearly demonstrate the potential of the digital technology applications for water management and hydro-environment engineering which have already made an impact in practice. The breadth of applications, from water efficiency improvements via smart domestic water metering, through water and wastewater network anomaly detection, to algal bloom management, also demonstrates the level of maturity that has been attained in the development and application of hydroinformatics, a science field pioneered and championed by IAHR members. Beginning in the late 1980s and early 1990s, IAHR (together with IWA) was among the first professional organizations to recognize the potential and importance of this new field, by establishing an IAHR/IWA joint committee on Hydroinformatics, starting the Journal of Hydroinformatics (published by IWA), and supporting the organisation of a bi-annual conference on Hydroinformatics. Judging by the quality of the papers presented in this issue, the water sector will soon catch up with the sectors and industries that have gone further on the digital transformation curve.
In the context of the celebration of the 85th Anniversary of IAHR and the IAHR 85th Anniversary Summit, where two sessions on Artificial Intelligence and Water (Digital Technologies and Water Supply Systems and Digital Transition for Environmental Preservation), are organised on Tuesday 15 December, we are happy to announce that this issue of Hydrolink is FREE ACCESS. Please share it!
Contents

Editorial by Dragan Savić and Angelos Findikakis.

Machine Learning applications in sewer systems by Josh Myrans, Feifei Zhen and Zoran Kapelan.

39th IAHR World Congress - new dates announcement.


AI–based event management at United Utilities by Michele Romano, Shaun Boatwright, Steve Mounce, Eirini Nikoloudi and Zoran Kapelan.

Real time forecasting and automatic species classification of Harmful Algal Blooms (HAB) for fisheries management by Joseph H. W Lee, J. H Guo, Tree S. N Chan, David K. W Choi, W. P Wang and Kenneth M. Y Leung.

Smart water metering and AI for utility operations and customer engagement: disruption or incremental innovation? By Andrea Cominola, Ian Monks and Rodney Stewart.

The history of the Mar del Plata Outfall System: a tale worth telling by Marcelo Scagliola, Ana Paula Comino, Phil Roberts and Daniel Botelho.

From Labyrinth to Piano key weirs: the story by Sébastien Erpicum, François Lempérière, Ahmed Ouamane, Michel Ho Ta Khanh, Frédéric Laugier, Blake Tullis and Brian Crookston.