The International Journal of River Basin Management (JRBM) plays a specific role in promoting a cross-sectorial approach encompassing all aspects of river and floodplain management, with a truly global perspective. The Journal is a response by the scientific and professional community to the World Water Vision and calls for an integrated approach to water resources management.
IAHR members can access the latest issue online.
Overview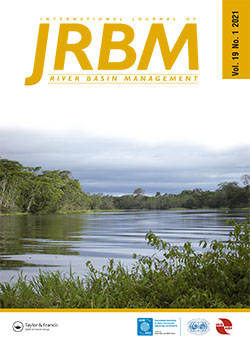 Welcome to the first issue of the year. This is the 19th year for JRBM and one where we aim to continue publishing papers related to river basin management from both a social and a technical viewpoint. Papers in this issue address a range of topics from vehicle safety in floodwaters to management of irrigation systems to environmental concerns in Ethiopia. As the papers included in this issue have been sourced primarily from developing nations, these contributions highlight the communality of concerns about river basin management within developed and developing nations. Furthermore, the diversity of concerns in the management of river basins and catchments is illustrated by the variety of topics discussed in the papers.
Articles
Criterion of vehicle instability in floodwaters: past, present and future
Syed Muzzamil Hussain Shah, Zahiraniza Mustaffa, Eduardo Martinez-Gomariz, Do Kyun Kim and Khamaruzaman Wan Yusof
Pages: 1-23 | DOI: 10.1080/15715124.2019.1566240
A review of safety guidelines for vehicles in floodwaters
Syed Muzzamil Hussain Shah, Zahiraniza Mustaffa, Eduardo Martínez-Gomariz, Khamaruzaman Wan Yusof and Ebrahim Hamid Hussein Al-Qadami
Pages: 25-41 | DOI: 10.1080/15715124.2019.1687487
Assessment of morphometric and hypsometric study for watershed development using spatial technology – a case study of Wardha river basin in Maharashtra, India
Chaitanya Pande, Kanak Moharir and Rajeshwari Pande
Pages: 43-53 | DOI: 10.1080/15715124.2018.1505737
Application of bi-objective genetic programming for optimizing irrigation rules using two reservoir performance criteria
Parisa-Sadat Ashofteh, Omid Bozorg-Haddad and Hugo A. Loáiciga
Pages: 55-65 | DOI: 10.1080/15715124.2019.1613415
A novel approach for rainfall-runoff modelling using a biogeography-based optimization technique
Bishwajit Roy, Maheshwari Prasad Singh and Anshuman Singh
Pages: 67-80 | DOI: 10.1080/15715124.2019.1628035
Geographic Information System based suitability analysis for potentials and challenges of small-scale irrigation in Lake Tana sub-basin, Ethiopia
Solomon Addisu, Banchiamlak Kassawmar, Asnake Mekuriaw and Amare Haileslassie
Pages: 81-92 | DOI: 10.1080/15715124.2019.1640227
A new flood vulnerability index adapted for the pre-Saharan region
Ahmed Karmaoui and Stefania Balica
Pages: 93-107 | DOI: 10.1080/15715124.2019.1583668
Land use dynamics and base and peak flow responses in the Choke mountain range, Upper Blue Nile Basin, Ethiopia
Agenagnew A. Gessesse, Assefa M. Melesse and Anteneh Z. Abiy
Pages: 109-121 | DOI: 10.1080/15715124.2019.1672700
Biomass and soil carbon stocks in different forest types, Northwestern Ethiopia
Getnet Kendie, Solomon Addisu and Abrham Abiyu
Pages: 123-129 | DOI: 10.1080/15715124.2019.1593183
Other
List of reviewers
Pages: 131-131 | DOI: 10.1080/15715124.2021.1878172