The International Journal of River Basin Management (JRBM) plays a specific role in promoting a cross-sectorial approach encompassing all aspects of river and floodplain management, with a truly global perspective. The Journal is a response by the scientific and professional community to the World Water Vision and calls for an integrated approach to water resources management.
IAHR members can access the latest issue online.
Overview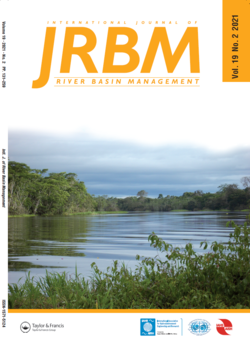 Welcome to the second issue of the year. During this 19th year of JRBM, we aim to continue publishing papers related to river basin management from both a social and a technical viewpoint. Papers in this issue focus on a variety of water quality related issues ranging from water quality indicators, statistical analyses of water quality parameters, and ecological aspects with an emphasis on fish habitats. Many developing countries have river basins with water quality issues, and hence, the papers in this issue discuss water quality issues in developing countries across the globe; papers are presented from Asia, the Americas, and Africa highlighting the international vision of JRBM.
Articles
Geochemical evolution and quality assessment of groundwater resources at the downstream section of the Kano-Challawa River system, Northwest Nigeria
Adamu Mustapha, Balarabe Sarki Sagagi, Mohammed Mala Daura, Adamu Idris Tanko, Philip Ogbonnia Phil-Eze and Hamza Ahmad Isiyaka.
Pages: 131-140 | DOI: 10.1080/15715124.2019.1606817
Quality assessment of shallow groundwater for irrigation purposes in Tadjenanet – Chelghoum Laid area (Eastern Algeria)
Abdelhamid Khedidja and Abderrahmane Boudoukha.
Pages: 141-148 | DOI:10.1080/15715124.2019.16280317
Prediction of water quality index (WQI) using support vector machine (SVM) and least square-support vector machine (LS-SVM)
Wei Cong Leong, Alireza Bahadori, Jie Zhang and Z. Ahmad.
Pages: 149-156 | DOI: 10.1080/15715124.2019.1628030
Water quality indices as a tool for evaluating water quality and effects of land use in a tropical catchment
Vanessa C. Simonetti, Daniele Frascareli, Erik S. J. Gontijo, Darllene S. Melo, Kurt Friese, Darllan C. C. Silva and André H. Rosa.
Pages: 157-168 | DOI: 10.1080/15715124.2019.1672706
The impact of the decline in area of the storage areas on water level at downstream of the Sai Gon – Dong Nai river system
Van Viet Luong and Dang Hung Bui.
Pages: 169-178 | DOI: 10.1080/15715124.2019.1687488
Target species selection and design of fish habitat suitability curves in the Ayuquila-Armería River, western Mexico
Demetrio Meza Rodríguez, Luis Manuel Martínez Rivera, Norman Mercado-Silva, Diego García de Jalón Lastra, Carlos Alonso González and Ángel Aguirre García.
Pages: 179-188 | DOI: 10.1080/15715124.2020.1767635
Multivariate statistical analysis of water quality of the Densu River, Ghana
Rita Akosua Anima Gyimah, Charles Gyamfi, Geophrey Kwame Anornu, Anthony Yaw Karikari and Francis Worlanyo Tsyawo.
Pages: 189-199 | DOI: 10.1080/15715124.2020.1803337
Influence of two neotropical ecoregions in the community of benthic macroinvertebrates
Michelli Caroline Ferronato, Paulo Vanderlei Sanches, Pitágoras Augusto Piana, Marcela Cristiane Franke, Marcos Marques Mendonça, Daniel Schwantes and Andréia da Paz Schiller.
Pages: 201-207 | DOI: 10.1080/15715124.2019.1576700
Evaluation of benthic macroinvertebrates as indicators of metal pollution in Brazilian rivers
Jéssica Manfrin, Daniel Schwantes, Affonso Celso Gonçalves Jr., Andréia da Paz Schiller, Juliano Zimmermann and Vinicius Henrique Dias de Oliveira.
Pages: 209-219 | DOI: 10.1080/15715124.2019.1628032
Spatio-temporal pattern of water quality in the Saigon-Dong Nai river system due to waste water pollution sources
Hiep Duc Nguyen, Nguyen Hong Quan, Ngo Xuan Quang, Nguyen Duy Hieu and Le Viet Thang.
Pages: 221-243 | DOI: 10.1080/15715124.2019.1700513
Assessing surface water quality under anthropological influences in the Caí River, Rio Grande Do Sul, Brazil
Marcelo Dal Bó, Sílvia Regina Grando, Mariana Farias de Souza, Robson Garcia da Silva and Gláucia Cardoso de Souza.
Pages: 245-253 | DOI: 10.1080/15715124.2020.1776303
Declining native fish, diminishing livelihood security: the predicament of Indian Himalayan communities
Nishikant Gupta, Mark Everard and Chhaya Vani Namchu.
Pages: 255-259 | DOI: 10.1080/15715124.2020.1790578