The Journal of Applied Water Engineering and Research (JAWER) publishes papers and practical case studies on all aspects of hydro-environment engineering and research. JAWER welcomes applications related to integrated water resources management and hydro-policy and aims for international dissemination of innovative methods that will specifically showcase studies on interfacing technology-based solutions within the hydro-environment and their ecological value and services.
IAHR members can access the latest issue online.
Overview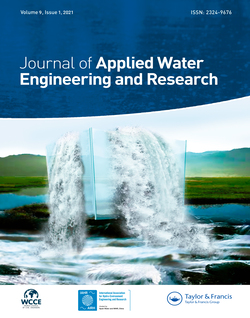 Welcome to the first issue of the year. JAWER is growing with over 200 papers submitted last year and, while early, we are on pace to exceed that total this year. Our papers originate from countries across the entire world, truly reflecting the global nature of water and water management. The diversity of JAWER papers is also impressive with papers highlighting the entire range of disciplines in water engineering and science. This issue contains five hydrology papers from Africa, Asia, and South America illustrating a variety of climates, geography, and management approaches. Innovative techniques and applications for addressing water supply and management are covered. The geographic diversity represented in this issue underscores some of the key differences and similarities in the problem-solving methods deployed in each region. Thank you for your continued interest in JAWER and we look forward to bringing you new papers in future issues.
Research articles
Evaluation of alternatives to optimize the flood management in the department of Valle del Cauca
Ricardo A. Bocanegra and Jürgen Stamm
Pages: 1-19 | DOI: 10.1080/23249676.2020.1787241
Study and analysis of the streamflow decline in North Algeria
Salima Charifi Bellabas, Saadia Benmamar and Abdellatif Dehni
Pages: 20-44 | DOI: 10.1080/23249676.2020.1831974
Geomorphological change assessment of south western coastal region: a case study of Mongla Upazila, Bagerhat, Bangladesh
Md. Mahmudul Hasan, Sourav Karmaker and Md. Rejaur Rahman
Pages: 45-51 | DOI: 10.1080/23249676.2020.1831977
Decision support for scenario analysis in a complex water resource project
R. K. Jaiswal, A. K. Lohani and R. V. Galkate
Pages: 52-68 | DOI: 10.1080/23249676.2020.1844604
Estimation of excess water in the Sebou basin for an interbasin water transfer
Oussama Laassilia, Driss Ouazar, Ahmed Bouziane and Moulay Driss Hasnaoui
Pages: 69-87 | DOI: 10.1080/23249676.2021.1884616