The Journal of Applied Water Engineering and Research (JAWER) publishes papers and practical case studies on all aspects of hydro-environment engineering and research. JAWER welcomes applications related to integrated water resources management and hydro-policy and aims for international dissemination of innovative methods that will specifically showcase studies on interfacing technology-based solutions within the hydro-environment and their ecological value and services.
IAHR members can access the latest issue online.
Overview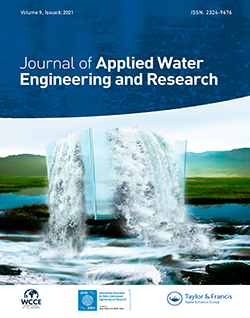 Issue 3 of JAWER combines papers from several different water related fields highlighting the diversity of topics that JAWER publishes.
Two papers deal with designing hydraulic screens, two papers present an optimized approach for water delivery systems including cost considerations, and four papers explore sediment transport and scour data based on computational fluid dynamics and physical modelling.
JAWER is a source for practical engineering approaches that can be widely emulated around the world to address pressing water resource and management questions.
Research articles
Mathematical expression for discharge coefficient of Weir-Gate using soft computing techniques
Abbas Parsaie and Amir Hamzeh Haghiabi
Pages: 175-183 | DOI: 10.1080/23249676.2020.1787250

The laboratory study of energy dissipation in inclined drops equipped with a screen
Rasoul Daneshfaraz, Mahdi Majedi Asl, Ali Bazyar, John Abraham and Reza Norouzi
Pages: 184-193 | DOI: 10.1080/23249676.2020.1799877

Calibration of the continuous water model based on the NRW patterns
Nader Torkaman, Hassan Ahmadi and Babak Aminnejad
Pages: 194-202 | DOI: 10.1080/23249676.2020.1844603

Multi-objective optimization of water distribution system: a hybrid evolutionary algorithm
Masoud Gheitasi, Hesam Seyed Kaboli and Alireza Keramat
Pages: 203-215 | DOI: 10.1080/23249676.2021.1884613

Modeling excess shear stress around tandem piers of the longitudinal bridge by computational fluid dynamics
Hongliang Qi, Junxing Zheng and Chenguang Zhang
Pages: 216-229 | DOI: 10.1080/23249676.2021.1884614

Characterization and analysis of sediments in stormwater drainage for reuse
Carlos Peña-Guzmán, Jeimmy Cárdenas, Amelia Pérez, Andrés Torres and Karen Mora-Cabrera
Pages: 230-240 | DOI: 10.1080/23249676.2021.1884618

Scour morphology downstream of submerged block ramps
Mahdi Esmaeili Varaki, Sahameddin Mahmoudi Kurdistani and Gita Noormohammadi
Pages: 241-250 | DOI: 10.1080/23249676.2021.1908918

Physical modelling of pressure flushing of sediment using lightweight materials |
Sanat Kumar Karmacharya, Nils Ruther, Jochen Aberle, Sudhir Man Shrestha and Meg Bahadur Bishwakarma
Pages: 251-263 | DOI: 10.1080/23249676.2021.1919224


OPEN ACCESS