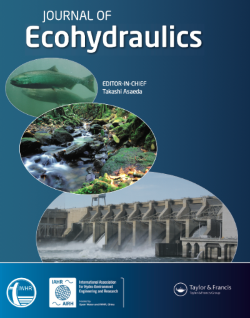 The Journal of Ecohydraulics (JoE) is an international, peer reviewed journal, publishing high-quality, original research. It publishes varied research undertaken in ecohydraulics, covering water resources and aquatic life, ecology, biology, hydraulics, engineering, geoscience, environmental science, climate change, and other related fields, with an emphasis on the integration of these disciplines and the contributions they can make for a sustainable future.
IAHR members can access the latest issue online.
Overview
Special issue on Hydraulic Drivers of Populations, Communities, and Ecosystem Processes
Guest editors: Aaron I. Packman, Christopher T. Robinson and Nicolas Lamouroux.
This issue of the Journal of Ecohydraulics contains outcomes of the 13th International Symposium on Ecohydraulics, virtually held in November 2020. Readers will find seven articles through which the main themes arising from the event are treated from different perspectives:
(1) Ecological interactions between habitat conditions, vertebrate and invertebrate populations, and entire aquatic communities, and
(2) the effects of river engineering and watershed management decisions on aquatic ecosystems, including development of new tools to help predict and mitigate adverse ecological impacts. The papers in this Special Issue provide guidance on implementation of improved river management strategies.
In addition to topics like meso-habitats in braided rivers, methods for modelling habitat heterogeneity, and salmonid bioenergetic models, a special focus is placed on hydropeaking with a number of examples taken from across the globe that are easily understandable for scientists specializing in different fields as well as practical engineers. 
Finally, prediction models are proposed for the the interactions of aquatic populations with hydraulic and geomorphic aspects of the sediment supply of habitats and their changes over space and time, focusing in particular on the interaction of scales ranging from the scale of an individual organism to that of large watersheds.
The contents widely satisfy the demands of aquatic ecologists/biologists, river scientists, as well as engineers/planners.
Articles
Editorial
Hydraulic drivers of populations, communities and ecosystem processes
Aaron I. Packman, Christopher T. Robinson and Nicolas Lamouroux
Pages: 91-94 | DOI: 10.1080/24705357.2021.1951506
Brief report

Effect of microhabitats, mesohabitats and spatial position on macroinvertebrate communities of a braided river
Gemma Burgazzi, Paolo Vezza, Giovanni Negro, Luca Astegiano, Riccardo Pellicanó, Beatrice Pinna, Pierluigi Viaroli and Alex Laini
Pages: 95-104 | DOI: 10.1080/24705357.2021.1938254
Articles
Modelling fish physico-thermal habitat selection using functional regression
Jérémie Boudreault, André St-Hilaire, Fateh Chebana and Normand E. Bergeron
Pages: 105-120 | DOI: 10.1080/24705357.2020.1840313
How does sediment supply influence refugia availability in river widenings?
Cristina Rachelly, Kate L. Mathers, Christine Weber, Volker Weitbrecht, Robert M. Boes and David F. Vetsch
Pages: 121-138 | DOI: 10.1080/24705357.2020.1831415
An indicator to characterize hydrological alteration due to hydropeaking
Dominique Courret, Philippe Baran and Michel Larinier
Pages: 139-156 | DOI: 10.1080/24705357.2020.1871307
Consistent but secondary influence of hydropeaking on stream fish assemblages in space and time |


Clarisse Judes, V. Gouraud, H. Capra, A. Maire, A. Barillier and N. Lamouroux
Pages: 157-171 | DOI: 10.1080/24705357.2020.1790047
Identification of effective hydropeaking mitigation measures: are hydraulic habitat models sufficient in a global approach?
Agnès Barillier, Leah Beche, Jean-René Malavoi and Véronique Gouraud
Pages: 172-185 | DOI: 10.1080/24705357.2020.1856008
Salmonid bioenergetic drift-foraging: swimming costs and capture success
Ian G. Jowett, John W. Hayes and Jason Neuswanger
Pages: 186-197 | DOI: 10.1080/24705357.2020.1839799