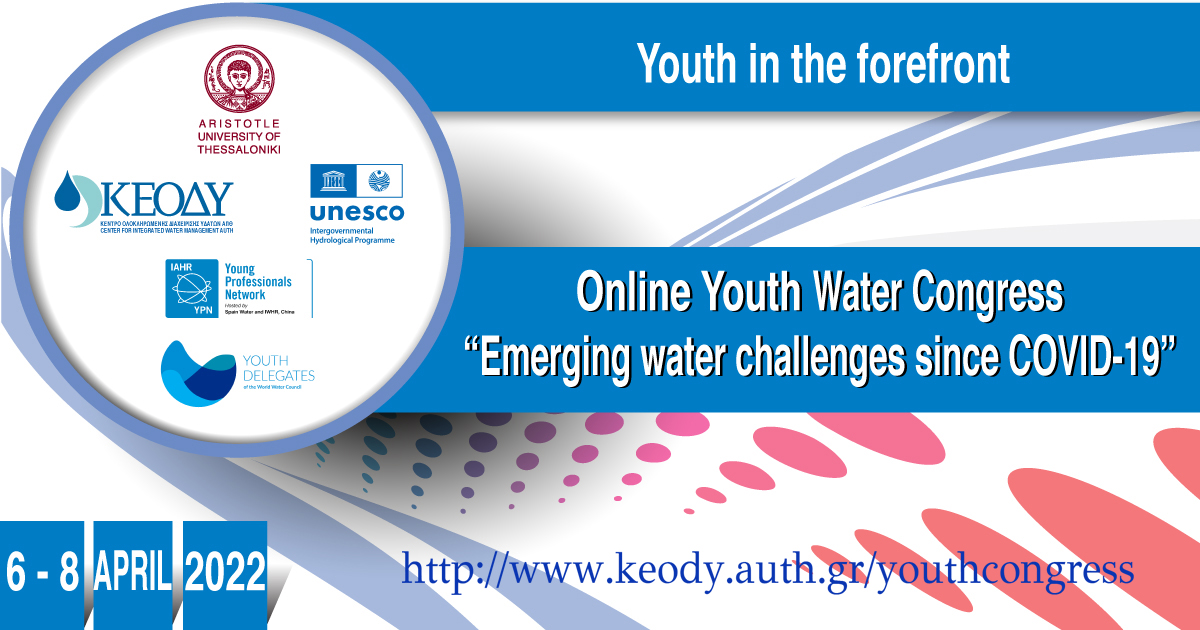 Submit your work! Keep me updated
In responding to the multiple crises today, we must learn the lessons of yesterday, give the floor to the youth and young waterprofessionals as leaders and innovators so countries are better prepared for the achievement of SDG 6 and other water-related SDGs of the 2030 Agenda for Sustainable Development for the days to come tomorrow.

Africa's freshwater resources are estimated to be nearly 9% of the world's total. However, these resources are unevenly distributed, with the six most water-rich countries in Central and Western Africa holding 54% of the continent's total resources and the 27 most water-poor countries holding only 7%.
The Africa Water Vision for 2025 offers a context within which water security and sustainable management of water resources could be achieved. However, rapid population growth, inappropriate water governance and institutional arrangements, depletion of water resources through pollution, environmental degradation, deforestation, and low and unsustainable financing of investments in water supply and sanitation are some of the main challenges to the achievement of SDG 6 on the continent (WWDR2021).
The 9th World Water Forum is scheduled to take place in March 2022 in Dakar, Senegal, under the theme: Water Security for Peace and Development. The 9th Forum Program focuses on the 2030 Agenda for transformative action. The "Dakar 2022" Forum will give emphasis on four priorities, namely: Water Security and Sanitation; Water for Rural Development; Cooperation; and Means and Tools including the crucial issues of financing, governance, knowledge management and innovation. These four axes constitute priorities for Africa and also for the world as a whole.
In a rapidly changing world we still try to solve new water problems with old solutions. We need to change our way of thinking about water and water management. This change can be attainable by broadening water education so that those technically grounded young professionals will be better prepared to work in a constantly changing global economy. The economy in which the young generation is called to work will be strongly influenced by the global marketplace for engineering and water services, which demand multidisciplinary and system-based approaches and new paradigms.
As water education is a cross-cutting priority area in the ninth phase of the UNESCO's Intergovernmental Hydrological Programme (IHP) for 2022-2029 – "Science for a Water Secure World in a Changing Environment"and since UN launched the Global Acceleration Framework for SDG 6, UNESCO through its Water Family put forward the youth in general contributing and raising awareness in hydro-environment issues.
The young people have the power to inspire new generations and also to offer policy advice.
The Water Youth Congress
The online Water Youth Congress is co-organized by UNESCO Centre on Integrated and Multidisciplinary Water Resources Management (CIMWRM), hosted by the Aristotle University of Thessaloniki (AUTh), in Greece, in collaboration with UNESCO's Intergovernmental Hydrological Programme (IHP), the Youth Delegates to the World Water Council (YDWWC) and the International Association for Hydro-Environment Engineering and Research (IAHR).
The young professionals (Yps) will have the opportunity to present their projects/research and also promote new innovative ideas for action (in 3-5 min). Meanwhile, they will have the opportunity to discuss and get some feedback from senior members(mentors) as well as to network with other YPs around the world and establish a connection with the 9th World Water Forum while disseminating the outcomes of the 9th WWF.
The interactive event will explore and discuss themes which will revolve around:
Water-related disasters and climate crisis

The "job" system in the Meta COVID-19 era

Resilience of societies and "digital" communication and cooperation

Management of groundwater resources, the "invisible water"

Water-related issues of inclusiveness (culture / gender / indigenous peoples)
The Congress will have parallel sessions on the above-mentioned themes and after the end of the sessions "virtual spiritual coffee breaks" will be provided where discussions will take place among participants and mentors. Mentors are experts from academia and water enterprises/agencies, etc.
There will be given the opportunity to have "be to be" meetings with mentors as well.
There will be e-proceedings of the event and even the possibility of publication to peer review scientific journal under conditions to be specified.
Why attend?
Be part of an interesting and most important environmental scientific event about water resources

Have your work presented and your voice heard by colleagues from all over the world

Have the opportunity to network with other young professionals and experts

Interact and transform your knowledge to solutions that can be applied and solve real water problems

Have the opportunity to favor from input by mentors who are experienced experts, from academia and industry

Participate in interactive "coffee breaks" that are focused on sharing knowledge and enhance cooperation opportunities

Have the opportunity to publish your scientific work in e-proceedings and high-impact journals
Key dates
14 February 2022: Deadline for abstract submission (extended abstracts)
22 March 2022: Notification of abstract acceptance
29 May 2022: Deadline for paper submission in selected journals
Organising Committee
Elpida Kolokytha, UNESCO CIMWRM AUTh

Kostantinos Voudouris, UNESCO CIMWRM AUTh

Dimitris Karpouzos, UNESCO CIMWRM AUTh

Dionysis Latinopoulos, UNESCO CIMWRM AUTh

Ellis Jorge Da Luca, UNESCO IHP

Elsa Incio, IAHR

David Ferras, IAHR

Phillip Kruse, Young Delegates of the World Water Council

Karishma Asoodani, Youth Delegate Asia and the Pacific to the World Water Council
Extended Abstract Preparation Instructions
All abstracts submitted via the online submission form before the deadline
Maximum length: 2 pages. This length should allow the authors to provide comprehensive details of their work

Congress and publication language:  All abstracts must be submitted and presented in English

Format: Text (pdf or word). Use the Extended Abstract Template that can be downloaded here
Accepted abstracts will be invited for online presentation in one of the following formats:
as an oral presentation in a workshop session

as a discussed poster in a "science at a glance" session

as a poster presentation in the poster gallery slot
Abstract submission and presentation rules
Confirmation of receipt & notification of decision

You will receive an email confirmation that your abstract has been received, indicating the abstract number to which it has been allocated. Please refer to this abstract number in all correspondence regarding the status of the abstract.

Please contact the Secretariat (cimwrm_unesco@auth.gr) if you submit an abstract and do not receive confirmation that it has been received.

Notifications regarding status of your abstract will be sent once the review process is complete.




Instructions for preparation of oral or poster presentations will be sent together with acceptance notifications.

Presenting authors must register by date (to be confirmed)
Only through enabling the young generations and unlocking transformative power, changes may occur in terms of achieving water security, water resilience and sustainable water solutions.
For any questions please contact: cimwrm_unesco@auth.gr
Submit your work! Keep me updated