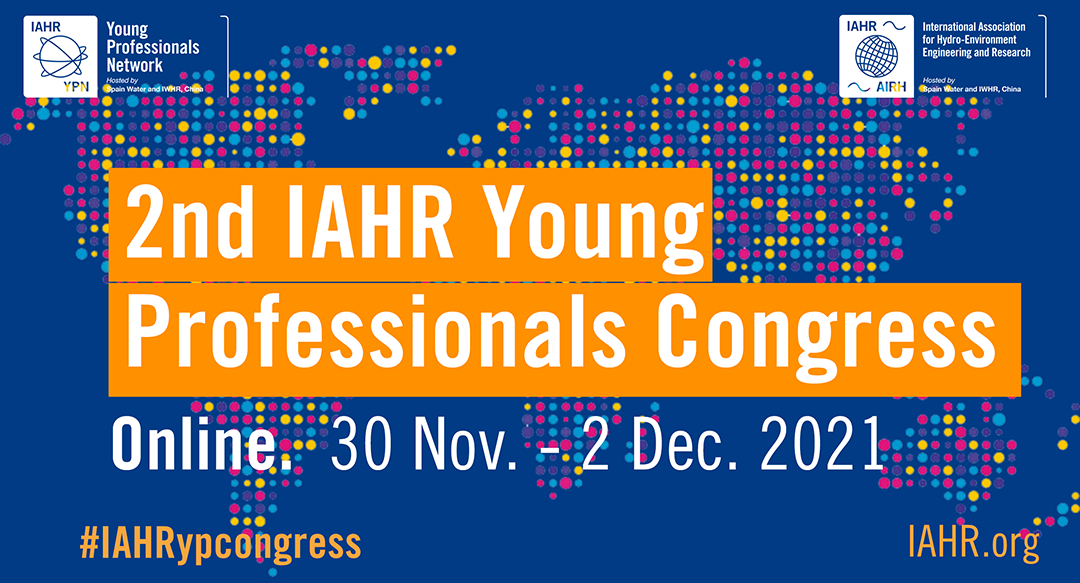 Presentations & Mentoring
Present your work, get mentoring and network with other young professionals and experts in your field around the world!
30 November - 2 December 2021. Online
Access the 1st Young Professionals Congress website
The IAHR technical committee on Education and Professional Development is organizing the first virtual congress for young professionals. The aim is to give you the opportunity to present your work and get feedback from mentors.
The congress is a wonderful opportunity to present your work and get mentoring from leading experts.
It represents a unique opportunity for networking as well; you will be invited to meet and interact with your peers and mentors through breakout sessions.
This is also the chance to make your work known; all the proceedings will be published and made available in the IAHR e-library after the congress.
Young professionals will present their work by submitting an extended 2-page abstract for review by the International Scientific Committee. Once accepted, your abstract will be assigned to one of the sessions chaired by the IAHR technical committees, and on the date of the event it will need to be supported by a one-page poster and a 3- to 5-minute presentation. Young professionals will receive feedback from mentors on their work and will be invited to join the break sessions so they can meet with their peers as well as the leaders of the IAHR technical committees.
Opportunities and benefits
Connect with other YPNs worldwide and by areas of expertise.

Mentoring.

An opportunity to meet with representatives of the IAHR technical committees.


The Congress is open to students but also to young professionals.

Free registration.

Open to all: IAHR young professionals members and non-members.


Proceedings will be published and made available in the IAHR e-library after the Congress.

Selected works will be invited to publish a paper in a special issue of the Journal of Applied Water Engineering and Research
Hydraulics
Fluid Mechanics

Experimental Methods and Instrumentation

Fluvial Hydraulics

Hydraulic Machinery and Systems

Hydraulic Structures
Hydro-environment
Climate Change Adaptation

Ecohydraulics

Coastal & Maritime Hydraulics

Flood Risk Management

Groundwater Hydraulics and Management

Hydroinformatics

Urban Drainage

Water Resources Management
Innovation and Professional Development
Education and Professional Development

Higher Education and E-learning
Working groups
Organising Committee
International Scientific Committee
Abdelazim Negm

Alessio Radice

Ana Margarida Lopes Saraiva Alves Bento

Andrei-Mugur Georgescu

Andrej Lipej

Aonghus McNabola

Arturo Marcano

Badronissa Yusuf

Benjamin Dewals

Blair Johnson

Carlos de Oliveira Galvão

Chirag Trivedi

Claudia Adduce

Corrado Altomare

Damien Violeau

Daniel Horna

Daniela Molinari

Dr Valentin Heller

Elpida Kolokytha

Erasmo Rodriguez

Eric Duviella

Freddy Florez

Frédérique Larrarte

Gensheng Zhao

Goh Hui Weng

Gordon Gilja

Hamed Sarkardeh

Ibrahim Demir

James E. Ball

Jesús Bryan Gamarra Rojas

Jochen Aberle

José Adriasola Velasco

Jose Anta Alvarez

José Gilberto Dalfré Filho

José M. Carrillo

Juan Pablo Rodríguez Sánchez

Julio Isaac Montenegro Gambini

Kamal El Kadi Abderrezzak

Kelly Kibler

LI Yun

Majid Mohammadian

Mário Franca

Michael Nones

Michael Tritthart

Modesto Pérez-Sánchez

Nils Rüther

Pablo Daniel Spalletti

Pablo Ouro

Paulo Rosa Santos

Pavel RUDOLF

Philippe Gourbesville

Professor Roger Falconer

Rita F. Carvalho

Romeo Florin SUSAN-RESIGA

Ronald R. Gutierrez

Rui ML Ferreira

Saeed Shaeri

Serhat Kucukali

Shooka Karimpour

Silke Wieprecht

Stefan Haun

Valeri Penchev

Victor Hugo Hidalgo Díaz

Vladimir Nikora

William Jaen

Xiaobing Chen

xuan zhang

Yeonjoo Kim

Yongping Chen

Zhiqun Daniel Deng
Key dates
5 July 2021: Call for abstracts opens.

31 August 2021: Call for abstracts closes.

15 October 2021: Notification of acceptance.

30 October 2021: Poster and final extended abstract submission.

30 November - 2 December 2021: Congress.

Your extended abstract must be submitted through the online submission form using the following template in Word.
All extended abstracts must be submitted in English. Please note that proofreading English text is compulsory. The use of native English reviewers is highly recommended.
Your extended abstract must be 2 pages maximum and a count of 850-1000 words (including a short abstract of 150 words and a maximum of 5 keywords).
The International Scientific Committee will review all the submissions during the month of September. If your extended abstract is accepted, it will be assigned to one of the sessions. You will then need to submit a one-page poster (using a 3 columns template or a 4 columns template) by 30 October 2020. Instructions on its submission will be provided at a later stage.
Presenters will do a 3-5 minute presentation at the 1st IAHR Young Professionals Congress supported by the poster.
Proceedings will be published and made available in the IAHR e-library after the Congress. Only works presented during the congress will be included in the proceedings.
The sessions will be recorded and uploaded afterwards to the IAHR website, and also livestreamed.
More information
For any questions on the Congress please contact the IAHR Madrid Office Manager Elsa Incio at elsa.incio@iahr.org
Keep updated! Subscribe for free to our monthly e-bulletin Newsflash.